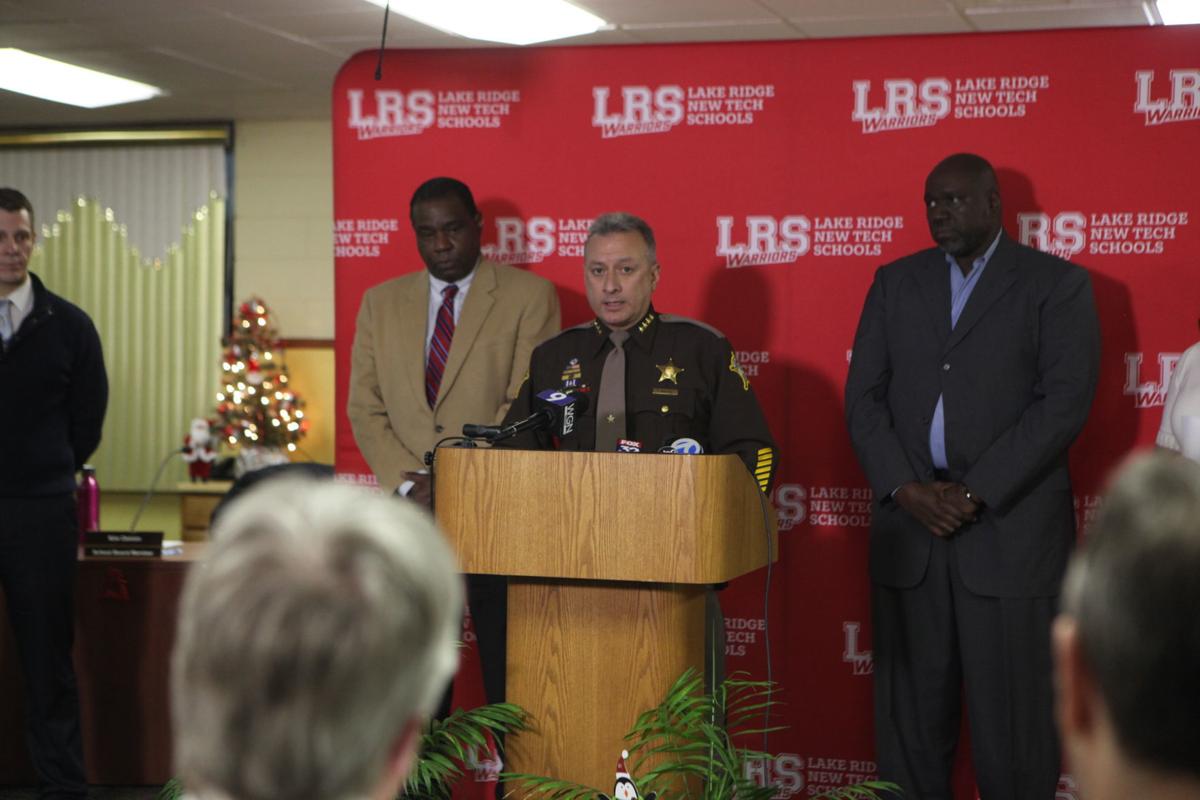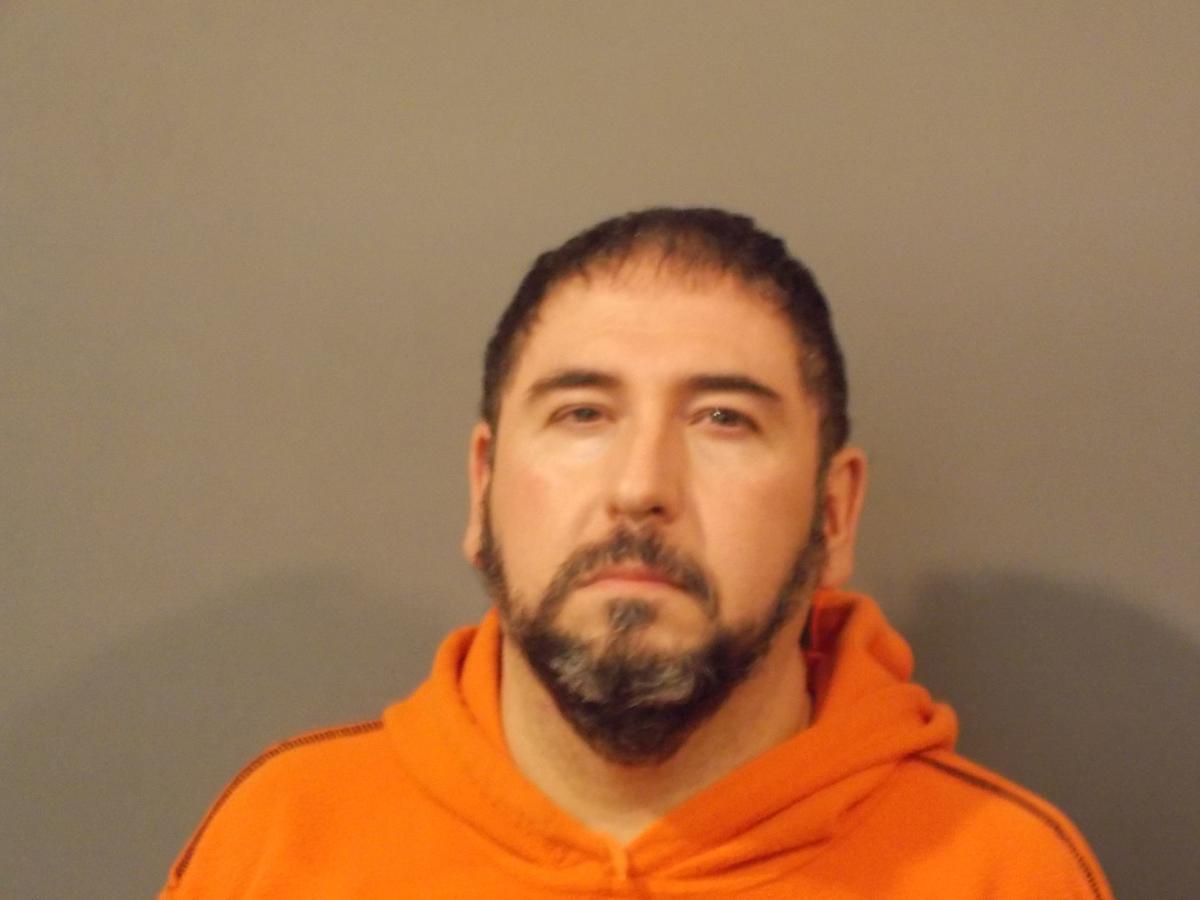 A longtime teacher's aide for Lake Ridge Schools was fired Monday after hundreds of sexually explicit photos and videos of boys were allegedly found on USB drives on his nightstand and beneath his bed in his Gary home.
Aaron Lopez Saldana, 47, of Gary, was arrested over the weekend. He faces one count each of child pornography possession with an aggravating factor; voyeurism through use of a camera; possession of child pornography; and obstruction of justice, Lake Superior court records show.
The Lake Ridge School Board voted Monday night to fire Saldana, first hired in 2010, after emerging from a closed door session at the district's administrative building on Ridge Road.
The vote occurred a little over an hour after Lake County Sheriff Oscar Martinez, the prosecutor's office and school officials held a joint news conference to shed light on the charges.
At the conference, Martinez pleaded with parents and students to come forward with any information they have. The initial investigation shows these were not recent crimes uncovered, he said, but crimes that were likely occurring over an extended period. 
"We believe that there may be other victims out there, some of (whom) do not even realize that they're victims, and some children who don't even realize they have been recorded without their knowledge," Martinez said.
The Lake Ridge Middle School teacher's aide is accused of recording prepubescent and teenage boys without their knowledge as they showered or used the restroom at his home, according to a probable cause affidavit filed Monday by Lake County sheriff's Detective Jeremy Kalvaitis.
In some videos uncovered, Saldana was pictured with young boys "in sexual positions," records state.
Saldana also is accused of having images of Lake Ridge Middle School students in his possession, but they did not appear "overtly sexual," the detective wrote.
Saldana led a photography club at Lake Ridge Middle School beginning in 2015, according to The Times archives. He was still active with the club leading up to his arrest and also served as a cross country coach. 
More than 50 people attended Monday's news conference, where parents and students called the allegations against Saldana "horrible," a "travesty" and a "disgrace to the community." Many expressed shock and outrage over the news. 
Friend was 'visibly shaken'
The investigation into Saldana began after detectives met with school officials and a female student Friday. The female student reported her male friend — a former student and member of Saldana's photography club — confided in her that he broke into Saldana's home Wednesday.
The girl told police her friend was "visibly shaken" when he told her he discovered a photo album under Saldana's bed containing multiple photos of young boys "in various stages of undress."
The friend said he placed the album back beneath the bed but swiped several USB flash drives before leaving.
Later, he reviewed the contents on his computer to find several videos allegedly involving Saldana and young boys "in sexual positions" and one video of a very young boy being directed to engage in sexually explicit activity on camera, records show.
The friend told her he was "very worried" about the contents, but was scared to turn in the footage because he believed he would be arrested for burglarizing Saldana's home.
Burglary suspect recognized Saldana's voice
The burglary suspect, who agreed to an interview with police, allegedly admitted he and his friend broke into Saldana's home about 9 a.m. Wednesday.
While in his bedroom, he saw naked photos of young boys — some of whom he recognized but "did not know their names." Some appeared to be of elementary school age, the suspect and former student said.
Saldana allegedly had a bucket containing "a bunch of USB drives" on his nightstand beside his bed and a large computer tower with "wires that connected to TVs and computers."
The burglary suspect said he feared Saldana might be using the computers to produce child porn.
The videos on one USB drive depicted young boys in Saldana's bathroom and being directed to engage in sexually explicit activity on camera. The former student said he was positive the subject was Saldana because he recognized Saldana's "voice, watch and shirt."
Done things 'he's not proud of'
When detectives arrived at Saldana's home Dec. 15 to execute a search warrant, Saldana was allegedly found burning photograph paper and remnants of partially melted photo negatives next to a smoking grill, records show.
Saldana reportedly told police he was alerted by a friend of the investigation into allegations of having child pornography.
"Saldana stated that was why he did 'that' and motioned toward the grill," the affidavit states.
Saldana allegedly admitted to using gasoline to burn portraits of children but that "they weren't pornography."
During a search of his home, officers found several computers, "but it was clear that the components had been removed from them," the affidavit stated.
The black album described by the former student was found underneath Saldana's bed but contained no photographs, the detectives stated. Accompanying the binder was "hundreds of photograph negative strips."
Saldana reportedly told detectives on scene that he had "done things" he is not proud of and that he wanted to take his own life and he was at "the lowest he has ever been."
Student refers to Saldana as 'Mr. S' in video
More than two dozen video files appear to be produced from a hidden pinhole camera in Saldana's bathroom, records state. Some of the videos include two to three young males, separately using the shower, removing their clothing, their private parts visible, or of young boys using the toilet.
"It is clear the subjects of the videos do not know they are being filmed," Kalvaitis states in the affidavit.
"In several of the videos, an adult male can be heard and sometimes seen on camera. The brief glimpse of the adult's face resembles Saldana, and one of the shots of the adult's arm reveals a silver watch similar to the one Saldana was wearing when he was arrested," he added.  
One of the young males also refers to the adult male on camera as "Mr. S" in one of the videos.
In a separate folder on the same USB drive, multiple images of Lake Ridge Middle School students were found, but did not appear "overtly sexual," the detective added.
Several photos of young males allegedly sleeping in Saldana's spare bedroom were also on the drive, records show.
At Monday's news conference, Superintendent Sharon Johnson-Shirley said the initial investigation "shows nothing has occurred during school hours or on school grounds, but at his home."
However, Martinez said detectives have secured a search warrant for Saldana's school computer.
Lake court records indicate Saldana carried out these crimes between July 2016 and Dec. 12, though Lake County Prosecutor Bernard Carter said that's based on current information, which is limited.
It is possible that timeline could expand once police analyze evidence and if more victims come forward, he added.
After the news conference, Johnson-Shirley said a 2010 background check upon hire did not raise any red flags as it pertains to his criminal history, she said. A fairly new state law requires schools to periodically conduct background checks on current employees, she added.
She told The Times she misspoke during a question-and-answer session with reporters, where she said Saldana had worked for the district for 10 years. He was hired in 2010, not 2008, she clarified.
Amee Liptak, operations manager with Fair Haven, a rape crisis center, said staff will be at the school Tuesday to speak with students. Anyone can call the center's crisis intervention line at 219-218-2552, Liptak said.
Parents, students and potential victims may also call Fair Haven to set up an appointment at 219-961-4357 if they feel more comfortable meeting away from the school setting.
Anyone with information is asked to contact the Lake County Sheriff's Department at 219-755-3346.
Saldana is being held at the jail on a $50,000 bail.