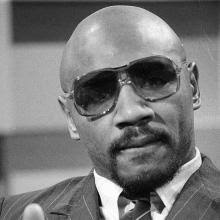 A SIDE-BY-SIDE COMPARISON MARVIN, CANELO, AND GOLOVKIN, YOU BE THE JUDGE.
Question: Can You Explain Why You Think Marvin Hagler Would Have Beaten Canelo?
Donald Bohanon: I think a prime Marvin Hagler (not the badly faded version who fought Mugabi and Leonard) beats Canelo because Canelo is a flat-footed fighter and has stamina issues in tough fights. In his most recent fights, he wasn't pressed at all and the fighters seemed defeated before they even got in the ring. Marvin wouldn't have been intimidated by Canelo at all.
This is not a knock against Canelo just me giving an educated opinion. Canelo is a very good fighter but he has to face and defeat every real threat in the divisions he campaigns at before he can be called great and he has weaknesses and those are primarily the fact that he is flat-footed and has stamina issues.
Some claim because of some of his most recent performances he doesn't have stamina issues any longer but I disagree and feel it's only because he hasn't been pressed really hard in any of his most recent fights.
I'm convinced Marvin would have pressed him in such a way that he would have been fighting in a panicked desperate mode at certain points in the fight and fighting like that really drains your strength and stamina. Not to mention the relentless body assault which would have drained him even more.
I'm convinced he would have also been making mistakes he wouldn't have normally made because of the pressure Marvin would bring. Mistakes Marvin would have exploited with precision hard counters.
The fact that he would have had to deal with punches coming from all kinds of different angles punches coming from up under, from the top, down the middle, and from the sides while fighting in desperation and panic mode at certain points in the fight would have proven very problematic for Canelo in my opinion.
Marvin aint Golovkin. Marvin threw more punches in one rd than GGG and many fighters today throw in 6 rds. He also had a harder, quicker, more accurate, and stiffer, jab than Golovkin and faster punches and hand speed. I'm also convinced he punched harder than Golovkin. He also had excellent timing and any trainer will tell you timing beats speed. He was also a supremely conditioned fighter who could fight hard for the full fifteen rds and still appear fresh at the end. Canelo would have never gotten a break in the fight. No time to rest or think.
Marvin was also a much smarter and more strategic fighter than people give him credit for. He showed his boxing IQ and skill in the Duran fight. Duran was one of the most skilled fighters offensively and defensively in the history of the sport. And Marvin shut him down. 
He made Duran think before punching because he would punch with him and counter most of what he threw. He had Duran leary of his power and counter punching. Something I'm convinced would have been a problem for Canelo as well. He was also dominating the inside fighting. Picking Duran apart on the inside.
And as Al Bernstein said, Marvin was completely out boxing and out banging Duran at certain points of the fight. Al was the only person calling that fight right that night by the way. Marvin won that fight convincingly it wasn't nearly as close as the judges had it. It was a tactical and strategic fight matching boxing skill. And if he could shut Duran down like that I think he has more than enough boxing knowledge to deal with Canelo's faints, offense, and defense.
I think Duran was more defensively sound than Canelo. With a better offense as well. Another important point to point out is they asked Duran three times if he wanted a rematch after the fight and Duran never responded.
That speaks volumes because Duran has never turned down an opportunity to avenge what he thought was a questionable loss. I think he took a quiet beating in that fight like Marvin said and knew in his heart if he fought Marvin a second time it would end with him being knocked out.
But, by comparison, watch the Duran versus Barkley fight. Barkley was a tough hard-punching MW champion with underrated skills who had even knocked Thomas Hearns out. But Duran completely took him apart. And that was a much older and badly faded version of Duran than the version who fought Marvin. The difference was the skill level of both fighters.
Marvin was much more skilled than Barkley that's why Duran couldn't do to Marvin what he did to Barkley. Duran vs Davey Moore was another good example. Moore was a highly touted, skilled, Junior Middleweight champion who many believed was the successor to Leonard. He beat everyone put in front of him and most by knockout. But Duran took him apart in brutal fashion and stopped him. But Duran's offense was largely shut down by Marvin and he was only able to show glimpses of his famed destructive offense. Because of Marvin's skill level. And how he significantly nullified Duran's offense with his own defense and offense.
When you try to steamroll Duran using just brute force he would take you apart. Barkley and Moore were classic examples of that. He was too tough, durable, smart, and skilled, to try and just bully. Marvin knew he had to use a more intelligent, tactical, strategic, patient, and cautious approach using his skill to defeat Duran. As opposed to the brute force destruct and destroy strategy he had used to ko most of his other opponents. Everyone with the exception of Hearns who tried to steamroll Duran was dissected and badly beat up and in many cases knocked out including Leonard. He beat Leonard, and badly beat him up, that is.
Canelo also struggled with fighters like Trout, Lara, and Cotto none of which are on Marvin Hagler's level. And many people believe he lost those fights. I'm convinced Marvin stops all those fighters before six to seven rds. You don't struggle with the Cotto's, Trouts, and Lara's of the world and beat a Marvin Hagler. It just doesn't add up rationally. I think Marvin employs a similar strategy to the one he used to beat Sibson exploiting Canelo's lack of foot movement. Sibson was similar to Canelo in that he was stocky, somewhat flat-footed but he actually had faster feet than Canelo, hard-hitting,  fast-handed, and explosive.
In that fight, Marvin boxed by using his jab. He basically took Sibson apart with the jab from the outside and he would dart in and score hard shots to the head and body and then dart back out until Sibson was busted up and tired and he then finished him. Canelo has always had problems with fleet-footed fighters. And Marvin had fast feet when he actually chose to use them.
He was also a hard puncher and a superb inside fighter who worked the body relentlessly. I think the combination of jabs, bodywork, counters, timing, an inside and out strategy would eventually wear Canelo down at which point Marvin would have finished him off.
You couldn't show any signs of weakness with Marvin because he was a superb finisher who would pick up on it and eat you alive. You can't get tired either with a fighter like Marvin it's like bleeding in the water while a shark is in close proximity.
He'd see it and attack. And I don't think he would have been awed by Canelo's punching power either because he faced much bigger punchers in Mugabi, Hearns, Roldan, and Fully Obel. All who had one-punch knockout power. And he showed none of them respect and stopped them all. Canelo's power probably would have been considered just average by comparison. I feel Canelo would have been reluctant to fully engage and come in because of the stiff jabs Marvin would have been tagging him with. As well as Marvin's timing, and accurate punch output.
I think Marvin's power and accuracy would have been a problem for Canelo as well. Marvin was very accurate with his shots. I think Canelo would have been leary of Marvin's power and punch output but Marvin wouldn't have respected Canelo's power. That's a problem and that would have been the difference in the fight as well. 
He would have taken the fight to Canelo with smart controlled aggression and pressed him hard every round. I think Canelo begins to fade around the 8th or 9th rd and Marvin then finishes him. I'm convinced Marvin would have been aware Canelo had stamina issues and used a relentless head and body attack to sap his strength and stamina then stops him. Canelo is defensively sound but when you kill the body the head follows. And Marvin would have been punishing the body from rd one until the stoppage.