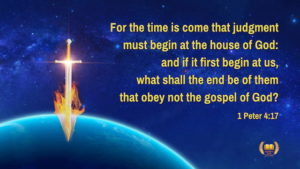 Redone
The Bible teaches us there are two significant and profound days of wrath coming from God.One is in a physical context which is referred to in scripture as The Great And Terrible Of The Lord.And is a time when God will pour out his wrath on a sinful world, because of their abominable sin and rebellion…Isaiah 2:10-22,1 Thessalonians 5:2-3.
The other is in a spiritual context when God's wrath will be expressed in a resurrection to judgment against those who have sinned in abominable ways while living in this physical life,unrepentant.This day of wrath will focus on a spiritual destruction and a physical destruction of the wicked and ungodly.
As opposed to a physical destruction exclusively which The Great And Terrible Of The Lord will be focused on.Some self proclaimed ministers deceptively,dishonestly and inaccurately, teach that a simple verbal acceptance of Jesus Christ frees us from this punishment.
Others teach that this event will be in the context of a judgment, and wont involve destruction or punishment but will simply be a day when God informs men of there offenses and then informs them that Christ sacrifice paid the penalty for those sins.
But are these beliefs right and in line with scripture? The truth of the matter is the judgment is the day of wrath upon ungodly men because of their sin and abominable evil.Something that's clearly outlined by the word of God.Let's examine scripture to determine what the day of judgment is, and what it involves. Today's audio is entitled "Judgment Day:The Day Of Wrath.".This audio was recorded on Febuary 3,2018.
This is actually a remake of a previous version I  did on January 28,2018 but I had to redo it because I inserted Jesus Christ as the Revelator or speaker in Luke 3:7 when in actuality it should have been John the baptist being emphasized as the speaker.A slight error on part as a result of rushing to get the audio done but I will try to insure I don't make that mistake again.
I also mention  that Christ mentions in Revelation that men will be judged by their works but in the context of the Bible as a whole being Christ in print… because Christ is the word of God in print,flesh and in spirit.John wrote the text but it was revealed to him to write  by Christ through visions.In this context Christ is revealing it to John.I also mention the ungodly will see God face to face but in terms of witnessing the glorious presence of God.Sort of like Moses when he witnessed God's glory in the burning bush.
In other words, in this case, they wont see his face but will probably see his glorious presence in the form of his body sitting on his throne, but in all likelihood his face will be hidden or cloaked in some way.Because no human can see God's face and live…Exodus 33:17-23.But they will still be frightened none the less…Hebrews 10:31.
Judgment Day:The Day Of Wrath.
Listen: Judgment Day:The Day Of Wrath.
This audio was recorded on January 28,2018.
---
Related Links