Two cheerleaders linked to Netflix's 'Cheer' arrested on child sexual misconduct charges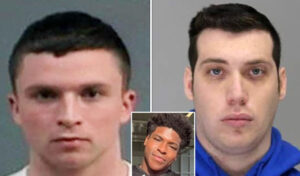 Two male cheerleaders linked to Netflix's "Cheer" have been arrested on charges of sexual misconduct with minors.Robert Joseph Scianna Jr., 25, and Mitchell Ryan, 23, were both arrested on Wednesday.
Scianna, a choreographer and cheer coach, was arrested in Virginia, and charged with felony taking indecent liberties with a child and using an electronic communication device to solicit sex, the Chesterfield County Police Department said, according to WRIC-TV.

Scianna allegedly solicited sex from a minor on social media. He is being held in the Chesterfield County Jail without bond, WRIC reports.

Ryan, a college cheerleader, was arrested in Texas, and charged with felony aggravated sexual assault of a child related to a July incident, according to the Dallas County Sheriff's Department.

The arrests come after "Cheer" star Jerry Harris was charged with multiple counts of federal child pornography and sex crimes in September.

Harris and Ryan were on the Navarro College cheer team, which was featured on the reality TV series, but Ryan did not appear on the show, People reports.

Ryan posted his $50,000 bond and was released Friday morning, according to People magazine.