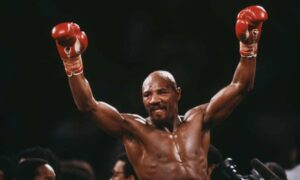 Anybody who knows me knows I have been a long-time fan of boxing. But obviously, I don't watch it like I used to because of my Christian beliefs. But Marvin Hagler was my favorite boxer. He fought with skill, toughness, courage, and determination, that was unequaled by many past and present champions.
I don't think any fighter at middleweight fighting today could have beaten him in his prime and that includes Canelo, Charlo, Andrade, and Golovkin. I honestly don't think they would have lasted the distance and if they had I'm convinced they would have suffered sustained beatings which would have probably significantly shortened or ended their careers.
I'm not of the belief that moving up in weight and fighting less skilled, and less talented opposition, who are past their primes, and in many cases with sub-par performances defines greatness. Marvin never moved up in weight but he ruled the middleweight division for seven and a half years with an iron fist.
And beat tough, durable, relentless, determined, underrated, skilled fighters, who had no quit in them in crushing, dominating, fashion and made it look easy. Something other very good boxers simply couldn't do. Marvin simply made them look less talented than they really were. Because he was that good. He faced every tough challenge and ducked no fighter. He was all action and very little talk. In the same vein as many other past great fighters. He was a true throwback fighter. And a true all-time great.
Many casual boxing fans only remember the Hagler vs Leonard fight and base their opinions of Marvin on that fight alone. But that can be very misleading because that version of Marvin was only a shell of himself. That was a ring worn, war-worn, past his prime version of Marvin who's timing was off.
He also lacked the versatility and mobility he was known for in his prime because his legs were shot. And he was just slower overall because he was past his prime due to a long road to the title.
Which essentially eroded his skills over time and resulted in him fighting many fights past his prime while still looking unbeatable in many of those fights. He didn't get his first title shot until his 49th fight because the champions avoided him. This is unheard of now when fighters are getting title shots after only 15-20 fights. And he beat the champion convincingly when challenging him for his title but was robbed
Leonard (an all-time great fighter in his own right) refused to face Marvin in his prime because he felt he couldn't beat him and if I'm not mistaken is recorded saying as much so he waited until Marvin was well past his prime to challenge him.
Marvin even made ridiculous concessions to Leonard to make the fight happen in the form of bigger gloves, bigger ring size, and shorter fight distance. All of which favored Leonard. But I still believe Marvin won the fight as do many others. But to be fair the fight was close. But in a close fight, the champion traditionally has always been given the benefit of the doubt. But not in Marvin's case which has unfortunately been the story of his life. He had to fight for everything he got. 
If you really want to see Marvin close to his prime and peak watch the Marvin Hagler vs Mustafa Hamsho 1,  Alan Minter, Tony Sibson, and Fully Obelmejias 1&2 fights as just some examples. Also, Hagler vs Hearns, but Marvin was actually past his prime in that fight also. But be warned they're not for the sensitive, squeamish,  or faint of heart.
He displayed his often overlooked versatility in the Sibson fight by taking him apart with foot movement, defense, and controlled, aggressive offense, in the form of a sustained head and body attack all while working behind the jab while cleverly avoiding most of Sibson's shots. He was a complete boxer-puncher who could do it all.
In the Mustafa Hamsho fight, Marvin knew boxing exclusively wouldn't be sufficient because Mustafa was such a strong, tough, determined, and rugged, fighter with an iron chin.  And probably would have walked right through him using a pure boxing strategy alone. If you were skilless and heartless Hamsho would have rolled over you.
A tough, rugged, determined, and very physical fighter like Mustafa Hamsho would have walked down and steamrolled right over a pure boxer with no heart or chin. Marvin instead employed a strategy where he met fire with fire in certain stanzas of the fight to stop his aggressive onslaught and to get Mustafa's respect while cleverly boxing in others. This served to confuse Mustafa while also neutralizing his aggressive assault and resulted in Marvin gradually breaking him down for a late-round stoppage.
In the Fully Obel fight because Fully Obel was such a tall, rangy, fighter Marvin knew he had to get on the inside so he displayed another wrinkle in his game, his superb inside fighting ability.
He essentially dissected the bigger, taller, fighter and broke him down like a skilled surgeon with inside fighting for a stoppage. Once again displaying his defense while avoiding most of Fully Obel's punches and his versatility and ability to adapt and strategize to deal with different styles and techniques. Fully Obel before facing Marvin was an undefeated and murderous puncher who was knocking out every fighter they put in front of him. The same thing applies to Mugabi who Marvin fought and beat past his prime as well and also Roldan. All had one-punch KO Power, underrated skills, and were tough and determined.
Some argue that Marvin never fought and beat any champions which is an ignorant statement when you consider he beat Vito Antufermo decisively for the title but was robbed. He then destroyed Alan Minter in 3 rounds to secure the title in his second title try.
After that, he was the undisputed champ meaning that he possessed all the titles so there were no other champions to challenge. If anyone else held a title I'm convinced he would have beaten them in a crushing dominating fashion as well.
And I'm convinced many of the contenders he fought would have been champions today because they had underrated skills. Explosive one-punch knockout power in many cases. And a toughness, stamina, durability, and determination, you rarely see in today's fighters.
I'm in tears after hearing about his death. It hit me like a ton of bricks. I only discovered he was sick after it was announced today and that he died after battling an illness as a result of taking the vaccine. I really took this loss of such a great champion hard. Harder than even the death of Ali.
If I had known he was sick I could have prayed for him. But I didn't find out until after his death was reported today. People, please do your research before taking these vaccines. I would do thorough research before considering taking the mRNA or Aztrazenca vaccines.
I send my condolences to and pray for his wife and family. A fierce warrior inside the ring. And a gentleman and class act outside of it. Rest in peace champ. And may God have mercy on you in the judgment. The greatest Middle Weight of all time. And one of the top 10 greatest boxers of all time "Marvelous Marvin Hagler" R.I.P. Champ.