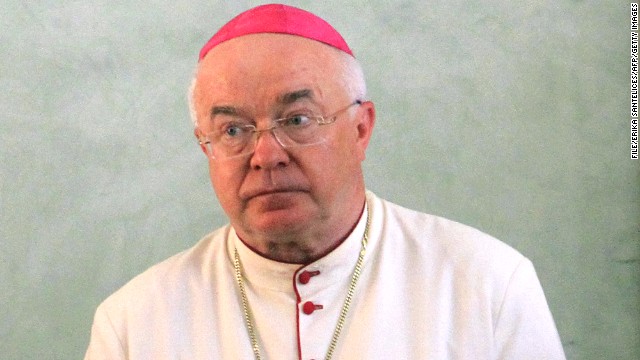 Another Catholic Church official has been caught and accused of sexually violating minors, you can read about it in the article below.The issue of centuries of widespread child sex abuse within the Catholic Church is an issue they obviously haven't addressed at all.
The arrest of one pedophile priest out of  hundreds of thousands, due to the massive, secretive, underground homosexual network  within the Catholic Church means nothing, and is obviously being done just for show and as a form of  propaganda in an effort to improve diminishing trust in the organization and elevate the Catholic Church back to the influential world status and prominence it once enjoyed.
But yet the public it appears  continues to love, adore and embrace, this false religious institution, as a true righteous  organization, and turn a blind eye to it's continued, repeated, sexual violation and exploitation of children. Simply amazing.
2 Corinthians 11:13-15
King James Version (KJV)
13 For such are false apostles, deceitful workers, transforming themselves into the apostles of Christ.14 And no marvel; for Satan himself is transformed into an angel of light.
15 Therefore it is no great thing if his ministers also be transformed as the ministers of righteousness; whose end shall be according to their works.
2 Peter 2:1-3
King James Version (KJV)
1 But there were false prophets also among the people, even as there shall be false teachers among you, who privily shall bring in damnable heresies, even denying the Lord that bought them, and bring upon themselves swift destruction.
2 And many shall follow their pernicious ways; by reason of whom the way of truth shall be evil spoken of.
3 And through covetousness shall they with feigned words make merchandise of you: whose judgment now of a long time lingereth not, and their damnation slumbereth not.
 Former Vatican Envoy Placed Under House Arrest.
By Daniel Burke, CNN Belief Blog Editor
(CNN) – The Vatican announced on Tuesday that it has placed a former ambassador under house arrest while he faces charges for "serious acts of abuse of minors."Jozef Wesolowski is accused of molesting young boys during his stint as the pope's official representative in the Dominican Republican. Wesolowkski had been appointed to the post in 2008 by Pope Emeritus Benedict XVI.
The former envoy, who was defrocked by the Vatican in June, is one of the highest-ranking church officials to be accused of abusing children during the Catholic Church's widespread and costly sexual abuse scandal. It is the first time a top Vatican ambassador has faced such charges.Wesolowksi's arrest, the Vatican said Tuesday, "is a result of the express desire of the Pope, so that a case so serious and delicate would be addressed without delay."Francis has pledged to maintain a policy of "zero tolerance" for Catholic clergy who abuse children.
Wesolowski's case provides a high-profile chance for the Pope, who has been accused by some victims' groups of downplaying the sexual abuse scandal, to take concrete action against one of the Vatican's own.The Vatican said that Wesolowski suffers from an unnamed but medically documented health condition, and will be placed under house arrest in Vatican City, which is a sovereign state.Pressure had been building on the Vatican to proceed with criminal charges against Wesolowki, a Polish native ordained by Saint John Paul II, since the accusations against him became public.
That pressure intensified when The New York Times reported last month that Wesolowski had been seen walking freely about Rome.The United Nations Committee Against Torture has also urged the Vatican to move swiftly on Wesolowski. A report by the committee in May noted that Poland had reportedly asked for the archbishop's extradition.Under Vatican law, Wesolowki, if found guilty, could face a maximum sentence of 12 years in prison.
Article Source:http://religion.blogs.cnn.com/2014/09/23/vatican-envoy-placed-under-house-arrest/?hpt=hp_t2