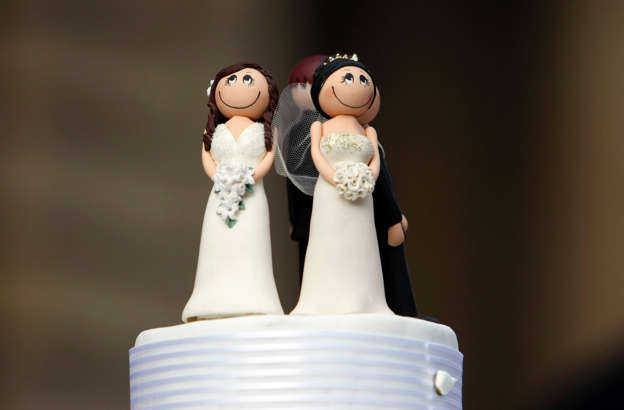 Absolute and complete  power and control, and persecution of Christians is what their real objectives are. As I've stated previously, on several occasions, in several articles. A  fascist socialist state where homosexuals and lesbians in positions of power, influence  and control, who will seek to force their filthy will and ways on the American public is what they're working to realize. And persecute relentlessly anyone who disagrees with their filthy, wicked, destructive lifestyle.  And the article below is just another example of that.
Forcing these bakers to pay a lesbian couple $135,000  because they refused to bake a cake for them? This has liberal fascism and socialism written all over it. If I were the bakers I wouldn't give them one chip. God's authority usurps man's government and authority. If you don't stand and fight, beat them  back, and overturn these illegal rulings, it will get much, much worse. Even if the courts decide in their favor I still wouldn't pay. Because that would be denouncing God and acknowledging evil.These bakers don't owe this lesbian couple anything. In the eyes of God the bakers are in the right and the lesbian couple is dead wrong. And that's all that matters. Nothing else needs to be said. I would file a counter suit for violation of religious freedom rights and file bankruptcy as well.
ARTICLE
The former owners of an Oregon bakery have been ordered to pay $135,000 to a lesbian couple who were refused a wedding cake, in the latest front in the battle between religious liberty and individual rights.
Oregon Labor Commissioner Brad Avakian ordered Aaron and Melissa Klein, who owned the Sweet Cakes by Melissa bakery in Gresham, Ore., to compensate the couple for emotional and mental suffering that resulted from the denial of service.
The Kleins had cited their Christian beliefs against same-sex marriage in refusing to make the wedding cake for Rachel and Laurel Bowman-Cryer.
Avakian's final order, issued Thursday, had been expected in the dispute that dates from 2013, one of several around the nation involving bakers, florists and photographers who have refused to provide services to same-sex couples on religious grounds.
Oregon law bars businesses from discriminating or refusing service based on sexual orientation, just as they cannot turn away customers because of race, sex, disability, age or religion.
According to the state Bureau of Labor and Industries' report, Rachel Bowman-Cryer and her mother attended a bridal show in Portland where the Kleins had a booth advertising their wedding cakes. Bowman-Cryer and her mother went to a cake-tasting at the bakery in 2013.
When Aaron Klein was told there would be two brides, Rachel and Laurel, he responded that he was sorry, but the bakery did not do wedding cakes for same-sex couples because of his and his wife's religious convictions, according to the report.
The Bowman-Cryers held a commitment ceremony in June 2013 and were married in May 2014, shortly after a federal judge struck down Oregon's ban on same-sex marriage.
In August 2013, the brides filed a complaint with the state Bureau of Labor and Industries, and the agency brought charges against the Kleins in January 2014.
Aaron Klein said his family had suffered because of the case and the glare of media attention.
The bakery's car was vandalized and broken into twice, he said. Photographers and florists severed ties with the company, eventually forcing the Kleins to close their storefront shop in September 2013.
In a Facebook post, the Kleins vowed to contest the ruling.
"We will NOT give up this fight, and we will NOT be silenced," they wrote. "We stand for God's truth, God's word and freedom for ALL Americans."