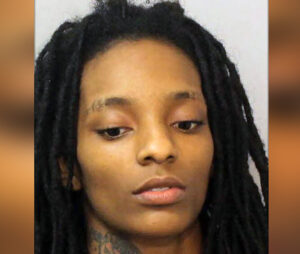 A Tallahassee, Florida woman is charged with brutally beating a 3-year-old boy to death with a tire iron.
Te'Lea Jefferson, 23, was arrested Tuesday, Oct. 20 and charged with murder and aggravated battery after she confessed to beating the boy with a tire iron for climbing on a bathroom sink to brush his teeth.
Jefferson, who lived with the child's mother and his 6-year-old brother, first told investigators the toddler fell off the sink and hit his head on the toilet.
But emergency room staff told police the boy's injuries — including severe lacerations to his face and hands and bruises on his arms and legs, were "not consistent" with falling off a sink, court records show.
Jefferson, who told police she was in a domestic relationship with the boys' mother, later confessed that she attacked the toddler with a tire iron after he refused her demands to get off the sink.
Jefferson said his refusal to get down off the sink angered her. She went into a bedroom and retrieved a tire iron from a tool box.
She then returned to the bathroom and threw the tire iron at the boy, striking him in the face, according to the police report.
Jefferson admitted to hitting the boy several more times with the tire iron and she recalled seeing blood gushing from his body.
Jefferson's girlfriend hid the bloody murder weapon outside the home.
Police believe the child died in the home before Jefferson brought him to the hospital on Oct. 19 with severe trauma to his face and head. He was unresponsive and pronounced dead upon arrival at the hospital at 7 p.m.
Hospital staff called 911 to report the "suspicious death" of a child.
According to the affidavit — based on the timeline of events — she should have arrived at Tallahassee Memorial Hospital's emergency room around 4 p.m. Jefferson confessed after investigators confronted her about the 3-hour gap in her story.
The male-identified lesbian told police she disciplined the boys when they misbehaved. She said the 3-year-old "often required more strikes or blows than his older" brother, according to the affidavit.
Jefferson is being held without bond in the Leon County Detention Facility.
At her first court appearance on Oct. 21, Jefferson said she preferred to hire her own attorney rather than be assigned a public defender, even though she qualified for public assistance, WCTV reported.
Public defender Nancy Showalter said she spoke with Jefferson and her mother, and the family would rather hire a private attorney.
Related Information.
What Really Happens To Children At LGBT "Youth Pride" Events.
Homo Christianity:A New Age,End Time,Satanic Doctrine And Deception.
Unprecedented Mass Homosexual/Pedophile Worldwide Indoctrination Of Children Underway Unbeknownst To The General Public.
Male Masculinity Now Being Promoted As Toxic And Dangerous?
A Message To Presidential Candidate Pete Buttigieg.
Widespread Massive Homosexual Molestation Of Underage Boys In The Boy Scouts Of America:Boy Scouts 'Perversion Files' List 7,800 Suspected Pedophiles
Homosexual Child Molestation Has Always Been Rampant And Pervasive In Society But Only Overlooked And Hidden By The Liberal Mainstream Media.
A Spike In Measles Cases Across The Country.
The Homosexual Deviant Plan For The Widespread Sexual Brainwashing And Indoctrination Of Children In Schools Ramps Up:California Votes To Overhaul Sex Ed Guidelines For Public Schools To Include LGBT Issues.
Story Time Drag Queen Who Teaches Kids Exposed As A Convicted Child Molester.
Are You Aware There Are Some In The Homosexual And Lesbian Community  Falsely  Accusing You Of Being A Pedophile?
A Homosexual Doctor For Two Decades Sexually Abused 177 Male College Students While Others Turned A Blind Eye To His Actions.
In Light Of The Current Spate Of Violent Attacks Against The Homosexual,Lesbian And Transgender Community Do You Think You Could Be Partially Responsible For At Least Some Of It Because Of The Information You Put Out?
Sexual Perversion And The Spiritual And Mental Derangement It Produces: A Man Hating Lesbian Mother And Her Lesbian Partner Cut Off Sons Genitals Dismember Him And Stuff His Body Parts Into Bags.
Insane Liberal Hypocrisy:The Attack On Long Standing Normal Male And Female Interaction And Behavior And Traditional Practices Disguised As A Way To Further A More Diabolical Agenda?